Upcoming Events

For more information, Balancing_the_Scale_workshop_flyer.090617
Unique Venues Annual Member Conference
PROGRESS' Ayana Ledford will be leading an event for Unique Venues, focusing on the importance of negotiation and the framework for analyzing negotiations. The goal of her Keynote Address will be to engage audience members in a way that unlocks their personal powers of negotiation.
Learn more: https://www.uniquevenues.com/schedule-at-a-glance
---
Past Events
Athena Conference – Bozeman, Montana
September 14, 2014
Aligning with PROGRESS' own goals, this conference educates women on everything from politics to closing the pay gap. PROGRESS' own Ayana Ledford will be leading several sessions, including: "Knowing Your Value, Measuring Your Impact," and "Owning Your Value- The Power of Negotiations."
Learn more:
https://www.theathenaconference.com/agenda/speakers/170884
NEGOTIATE| MORAINE PARK TECHNICAL COLLEGE
Teaching women the value of their work through an interactive workshop.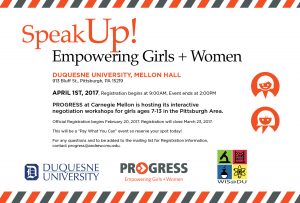 Our Executive Director, Ayana Ledford, will be leading a workshop: Why it Makes "Cents" to Ask for What You Want. Register to attend this dynamic conference and not to be missed negotiation session on March 17, 2017.